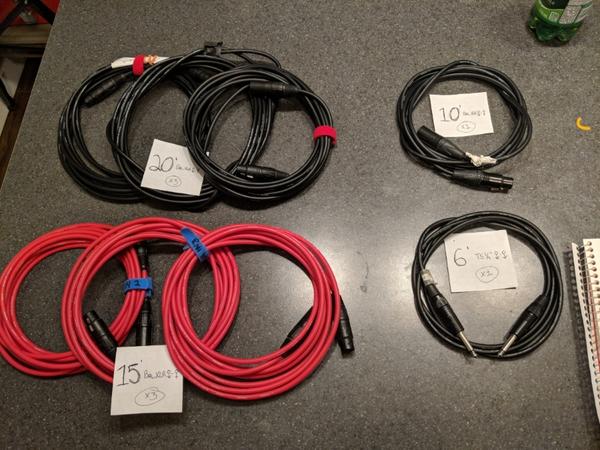 | | | | |
| --- | --- | --- | --- |
| | | add a note | |
Save
recording quality audio cables
For sale I have several recording quality cables off varying lengths. All were hand made by me utilizing canare cable and neutrik connectors. These are slightly used but never abused. I warrant the cables for life (workmanship only, if a connector fails or won't pass Signal not if you put a big cut in the middle Of The cable)



Available I have:
3x 20' balanced mic cables in black
3x 15' balanced mix cables in red
1x 10' balanced mic cable in black
5x 6' unbalanced TS instrument/patch cables


20' - $30 each (take all three for 80)
15' - $25 each (take all three for 65)
10' - $18
6' - $12.50 each ( take all 5 for $50)

If you take all of the above for 150, I'll throw in a whole bunch of patch cables. These are not made by me, but came off my pedal board and are no longer required. There is easily almost 120 ish bucks worth of patch cables of varying lengths from 6" to 3'

Will deliver if necessary.
| | |
| --- | --- |
| | Kitchener, ON N2G 3L6 |
| | 9 days ago |